Ah, gorgeous… we had a fab time yesterday.
The twins and myself and another set of twins visited Darling Quarter playground, at Tumbalong Park in Darling Harbour.
We took some lovely photos and had a great time, even though the whole playground was absolutely swamped with kids.
(Read our much more detailed post on Darling Harbour playground here. It was all the details you need to plan a trip there.)
The younger kids and the mums with prams and strollers tend to be at the south end, where all the fabulous water play equipment is.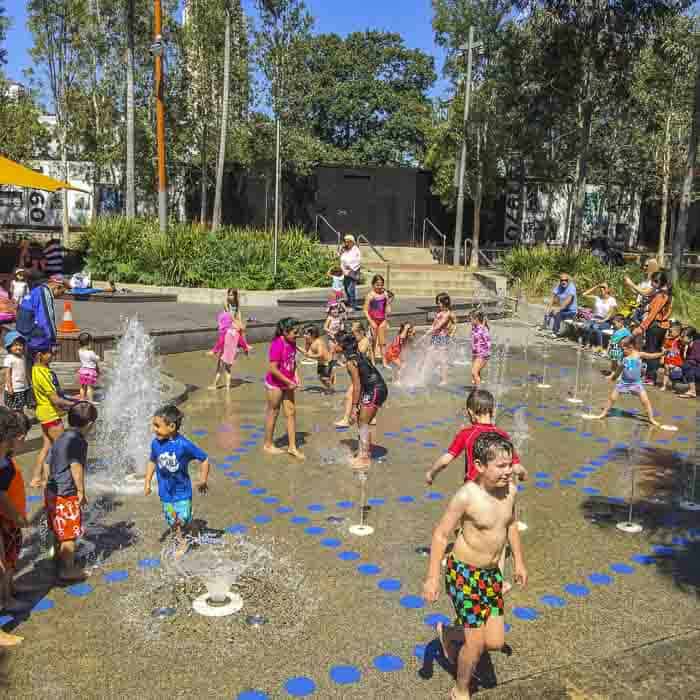 Always remember to bring a spare set of clothes!
The older kids hang out at the northern end where the towering climbing frame is and the big slides and the flying fox.
My wee lass managed to find a moment of peace in the tunnels. Sweetie.
And my twin-mum-school-mum friend and I sat in a cafe by the playground for a while. She bought me a coffee and it came with a CHOCOLATE.
Outrageous and fantastico!
A warm spring day with blue skies and sunshine… and one of the very best playgrounds in Sydney.
What more could we ever ask for?
You'll Love These Posts
The 50 Best Playgrounds in Sydney
10 Great Sydney Cafes – Beside Playgrounds
Nine More Great Sydney Cafes Beside Playgrounds
The Best Bushy, Natural Playgrounds in Sydney
How To Find Great Fenced Playgrounds
Best Fenced Playgrounds – North
Best Fenced Playgrounds – East