If you're going to Port Stephens for a weekend with the family, here's our list of fantastic family fun.
You see, there's just too much to do at Port Stephens, where to start when just there for a couple of days?
Well, we boldly suggest that these are the best things to do, certainly our five favourites.
PS If you are looking for somewhere to stay in Port Stephens, click here to find a useful post which also has a longer list of activities.
1. Dolphin Cruises at Port Stephens
More than 400 dolphins make Port Stephens their home and they are spotted on most cruises.
We had a wonderful trip out with Imagine Cruises, and saw a pod of dolphins which stayed with us for quite a while. The photo above was taken by Imagine, isn't it fab?
My photo is below, not so spectacular, but it was wonderful to watch these fine finned fellows.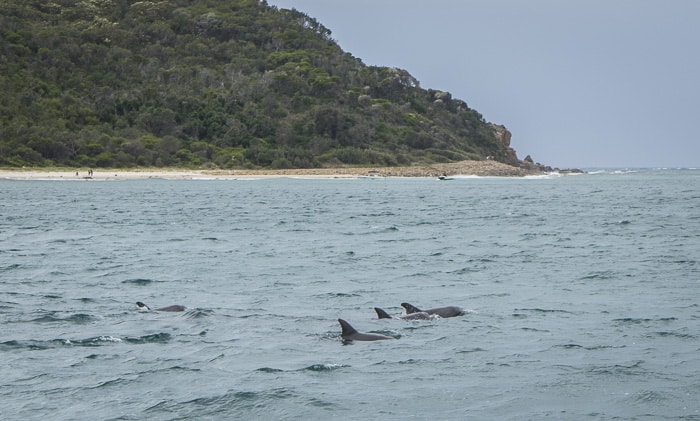 Imagine Cruises offers dolphin cruises all year round, dolphins swims, snorkelling, marine discovery, dinner cruises and more. Whale watching is done from May – November.
The cruises leave from the lovely marina at Nelson Bay.
Read all about Imagine Cruises on their website here
2. Camel Riding On The Beach
Worimi Conservation Lands are the largest area of sand dunes in the southern hemisphere. The dunes are also known as Stockton Bight Sand Dunes.
At the north end is Birubi Beach and camel tours set off from here.
Now I've been on a camel before so wasn't scared, but the girls were nervous. When the camel stands up you do need to hold on tight.
Ours was just a 20 minute ride, far too short, we would have loved to wander off for a much longer trek into the dunes. These are available so we'll have to do that next time.
At $30 for adults and $25 for children, the 20 minute ride is not cheap, but a very unusual and interesting experience for riders. Call or SMS ahead to check what is available on the day you want to ride..
Oakfield Ranch Camel Rides
Birubi Point Public Carpark, James Paterson St, Anna Bay NSW 2316
Phone: 0429 664 172
Oakfield ranch website is here
3. Sandboarding in The Dunes
From the same large car park at Birubi, you can easily join a trip into the dunes. We went with 4WD Tours R Us who run all sorts of tours and trips. We did a simple sandboarding tour.
A small 4WD bus dropped us off to the base camp not too far into the dunes.
4WD Tours R Us can be found at the Lower Car Park, James Patterson Street, Anna Bay.
You can book tours online at the website here.
Phone: 02 4981 9352
4. Swims, Walks and Eats at Birubi Beach
Well there are HEAPS of great places to swim and eat at Port Stephens, but we enjoyed Birubi Beach the most. There's a terrific cafe with the most jaw-droppingly sweeping views.
Crest Birubi Beach is found at the Birubi Point Surf Life Saving Club at Anna Bay. It is open for from 8am for breakfast and lunch seven days a week. No bookings are taken. We went both Saturday and Sunday, it was much busier on the Sunday, of course.
Crest Birubi beach website is here.
5. Hiking Up Tomaree Head
Tomaree Head Summit Walk is not long, but it is certainly steep. The official difficulty rating is medium. The walk is only 1km in length, but takes about 30 minutes due to the steep climb. The summi is 161 metres high.
Tomaree Head Summit Walk
Start at the Zenith Beach car park and follow the well signed track.  Afterwards enjoy a cooling dip at Zenith Beach, or drive down to Shoal Bay as we did.
Read more at the NPWS website here.
You might also like to check out our post on 15 Things To Do in Port Stephens With Kids and Where To Stay here.
Our weekend away in Port Stephens was active and adventurous, with good food and some relaxation when we got home to our holiday park (read about The Retreat Port Stephens here).
All highly recommended.
Next time we visit Port Stephens, I'd love to take longer camel trip and dolphin cruise. I feel we've had a great taste of what to do, now we need to book in for a week and explore more… and swim more…. and relax more too.
Have you visited Port Stephens?
What did you enjoy doing there?
Happy holidays
Disclaimer: We were guests of the tour operators and are grateful for their hospitality. All opinions are our own.