Who's visited the Museum of Fire in Penrith?
Or The Museum of Fire Engines, as my big boys used to call it. Ah, those were the days, when they both wanted to be firemen…. I miss those wee boys that they were.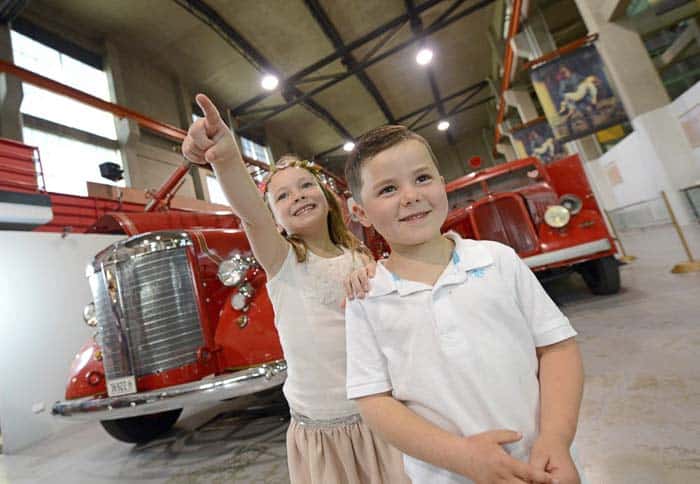 I must admit that I haven't taken the twins to The Museum of Fire and must do so one day soon.
It's a great day out for Sydney kids, and parents will enjoy it too.
The Museum of Fire is a real community museum, it's a registered charity and many of the volunteers are firefighters themselves.
All profits raised go to educating our families to the dangers of fire and preserving the heritage of the communities bravest.
Museum of Fire
1 Museum Dr
Penrith NSW
Open:  seven days per week except  Good Friday, Christmas Day, Boxing Day and New Years Day.
Times: 9.30am to 4.30pm
Admission Prices:  Family 2 Adults & 2 Children (2 years & above) $25.00; Adults $10.00; Concessions $8.00; Children $6.00 2 years & above
Group bookings welcome.
At the Museum of Fire, there are more than 35 antique and more modern fire engines to explore and lots of information about fires… and how to put them out.
Kids love the Junior Fire Fighters Training area which has three half cabin fire engines that they can hop in. One of them has a simulator of a fire truck going to a call and the children can put on a fireman's jacket and pretend that they are driving.
The Museum of Fire is also a Fire Safety Education Centre, and has exhibits on home safety, the State Emergency Service, burns and, thrillingly for children, a simulation of a home that has had a serious fire.
There are exhibits about bushfires, a wonderful display of fireman's hats, a collection of model fire engines and a theatre where short videos are shown all day.
The hands-on children's area has three computers with five different fire safety games to play.  Two sections of fire engines can be climbed over and played in.
Families and groups are very well catered for with the large and well-equipped playground in the grounds, surrounded by picnic tables. The playground is not enclosed.
Large grassy areas surround the museum and there is a toilet block in the grounds, so families can make a day of it.
Guided Tours are available for school groups, seniors and adults.
Cafe: No
Baby change: Change table in disabled toilet inside museum
Strollers: No problem, the museum is all on ground level
Shop: Sells lots of fireman items, Fireman Sam videos, puzzles, model fire engines and even smoke detectors
Guided tours: Only for school groups
Mum's report: 'Learn, don't burn' is the motto at the museum and there is plenty to learn about. My kids would love to clamber all over all the old fire engines, but just have to restrain themselves and play on the ones in the children's area.
Parking: Free parking in museum grounds
Nearest station: Penrith is just a few minutes away
Bus stop nearby: Yes