Oh yes, it's a cracker. Darling Harbour playground at Darling Quarter is huge and chock full of fabulous play equipment.
This playground is fabulous for kids of all ages. There are so many different areas to play, some areas are really challenging spaces for older children, but there's lots for little ones too.
Darling Harbour playground's only drawback? It can get far too busy.
This is also not good at all if you have a child who runs off, there's too much water around, both the water play areas of the playground and the waters of Darling Harbour which are totally unfenced.
Our trips have been on quieter days with few other kids around, very heavenly indeed.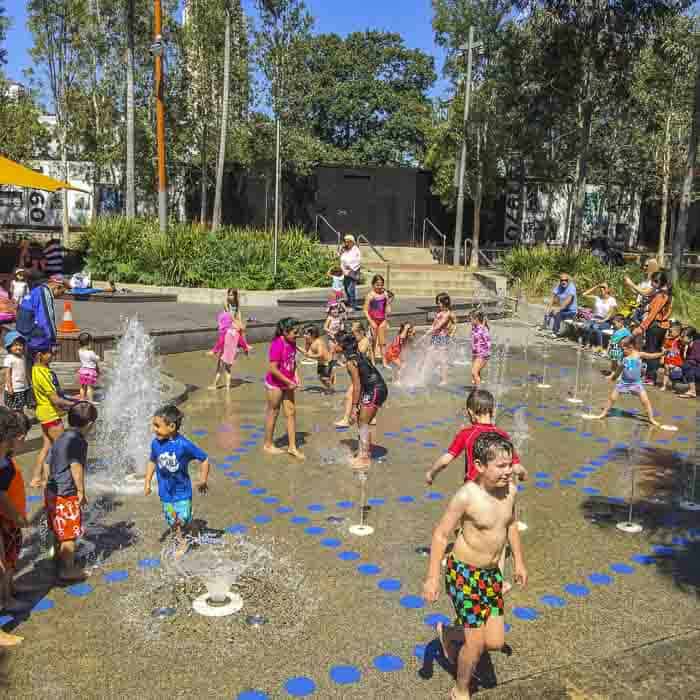 Where exactly is Darling Harbour playground?
Well, strictly we should say this is Darling Quarter playground really as it's in that section of Darling Harbour. It does go by a few names. You might also hear it called the Darling Harbour water park as there's so much water play within it.
Here's a map to show you. Zoom in until you can see Tumbalong Park. The playground is the green area north of that. It's large!
Darling Harbour Playground Information
Tumbalong Park, Darling Quarter, 1 – 25 harbour Street, Darling Harbour
This playground really is amazing, partly because it's just so big, but mainly because it has such great play equipment and spaces in it. It really is one of the best of the Darling Harbour attractions for kids… and unlike the rest, it's free.
The younger kids and the mums with prams and strollers tend to be at the south end, where all the fabulous water play equipment is. The older kids hang out at the northern end where the towering climbing frame is and the big slides and the flying fox.
The designers have gone totally wild, they've put in:
* balance ropes
* giant slide with tunnels and other slides
* water fountains
* water scoopers and screws and dams
* spiders web climbing frames
* a giant ring swing and superlong swings
* sandpit with sand digger
* supernova roundabout
* a long flying fox
Toilets: There are public toilets on the east side and west side of Tumbalong Park.
Shade: There is a shade area in the playground, but lots is unshaded too.
Enclosed: No, the very opposite of enclosed… wide open, huge and with water very close by. Beware.
Mum's report: OK, I admit it, I love it too. It would have been a complete nightmare when my oldest boy was young as he was a bolter, and he'd have been totally overwhelmed and probably ended up in deep water. But all of the children are older now and it's somewhere we can come and know all the age groups will be happy. And plenty of cafes to keep mum and dad happy, of course.
Darling Harbour Playground Cafes
Within the playground there is a handy kiosk where you can buy takeaway drinks or snacks, or sit at one of the small tables.
Our alternative to the kiosk is the yummy Guylian Cafe which is within the Darling Quarter building slap bang beside the playground. You cannot go wrong with a cup of hot chocolate from there.
For more substantial meals, there are several other fast food and slow food cafes and restaurants at Darling Quarter, check them out on the website here.
Getting To Darling Harbour Playground
Public transport: Train to Town Hall Station then exit south into Bathurst Street. A short downhill walk on Bathurst Street brings you directly to Darling Quarter, the playground, Tumbalong Park and the Sydney Visitor Centre.
Buses: Easy walk down to Darling Quarter from bus stops in Market, Park, Druitt, Bathurst or Liverpool streets. Bathurst Street entrance to Darling Harbour is best.
Ferry: Catch a ferry to King Street Wharf or Pyrmont Bay Wharf within Darling Harbour then walk to Darling Quarter.
Lightrail: The closest station o Darling Quarter is Paddy's Market Station, but Conventio, Exhibition and Pyrmont Bay Stations are just a short walk away,
Parking: Wilson Parking at Darling Quarter is right beside the playground, weekend rates are generally $15. Check the website here.
If you're looking for things to do in Darling Harbour which will not cost a penny, the playground is the place for you!
Have you visited Darling Harbour playground?
Would your children love it?
You'll Love These Posts
The 50 Best Playgrounds in Sydney
10 Great Sydney Cafes – Beside Playgrounds
Nine More Great Sydney Cafes Beside Playgrounds
The Best Bushy, Natural Playgrounds in Sydney
How To Find Great Fenced Playgrounds
Best Fenced Playgrounds – North
Best Fenced Playgrounds – East